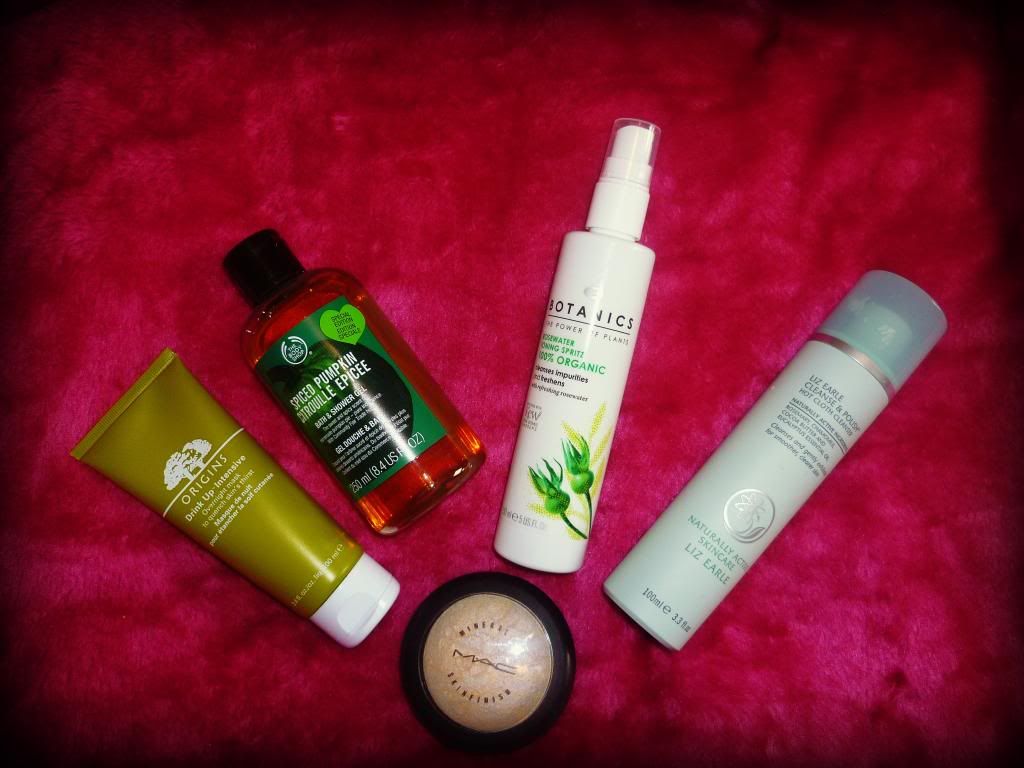 This post is quite late as we are nearly a week into December, however I had a few things I wanted to share this month that I've really enjoyed. These type of posts are one of my favourite to read, so wanted to pop my two cents up on the internet too.
Origins Drink Up Intensive:
In a
recent empties
, I finished a sample of the normal Drink Up mask which I really enjoyed using. Considering my skin has been so dehydrated recently I decided to pick up a full size of the intensive version to give me that extra boost. It's worked wonders, smells divine and a little goes a long way. I'll be sure to post a proper review soon.
The Body Shop Spiced Pumpkin shower gel:
I picked this up on a whim when I walked past the shop and saw they were having a sale. I bought this for half price at £2 along with 'Fuzzy peach' and am really enjoying using it. It's not the usual kind of shower gel I would go for as it isn't moisturising but the sweet yet spicy scent is perfect for this time of year.
Boots Botanics Rosewater Toning Spritz:
After finishing up my Lush toner I wanted to try something new as I wasn't completely wowed by it. I picked this up after seeing a recommendation of it (can't remember which blogger, sorry!) and am so pleased I did. It has a strong rose scent which I enjoy and anything with rose water seems to agree with and aid my skin. I also really like the nozzle on it as it delivers a fine mist, which the Lush toner didn't. A full review of this is to come.
Liz Earle Cleanse and Polish:
I know I've already waxed lyrical about this, but after finishing my bottle of it I tried out a new cleanser as I like to keep my options open. However I missed this, picked up another bottle and fell in love again. I think I will always have to have this in stock as it is definitely a holy grail item for me. It takes off makeup with ease, smoothes and softens my skin and has really helped with my dehydration issues too. Read my full review
here
.
MAC MSF in Lightscapade:
A full review was recently put up on this product
here
, but I couldn't not mention it in my favourites. I've used it pretty much every day and think it is just so pretty both in the pan and on my face! It is finely milled, easily blended and very buildable - you can use it for a subtle shimmer or layer it on for more definition. It's so lovely and perfect for any occasion.
Tea variations:
I've always loved a good cup of tea but recently I've branched into new flavours. I'm particularly enjoying Earl Grey at the moment (from Aldi) along with cinnamon tea (Holland and Barrat) with half a teaspoon of honey, which is great for this time of year. The latter choice was influenced by
Sammi
:)
Essie Carry On:
Featured on a
recent NOTD
, this is a perfect shade for autumn/winter. It goes with loads of outfits, and complements the berry tones I've been enjoying wearing on my lips. I don't own anything else like it and think its a great addition to my nail varnish collection.
OPI 'I Lily Love You' (R) and 'Be A Dahlia Won't You' (L):
Firstly, how cute are the names of OPI polishes?! I received this last christmas as a gift from my sister in a set of 3 and they are just so me. If I was a nail polish I would definitley be a combination of the two. They are beautiful on their own but this month I've been loving layering the glitter over the top of the hot pink as they really compliment each other. I'm sure there will be a NOTD post dedicated to them soon.
Do you like any of these products? What were in your favourites for November? xxx