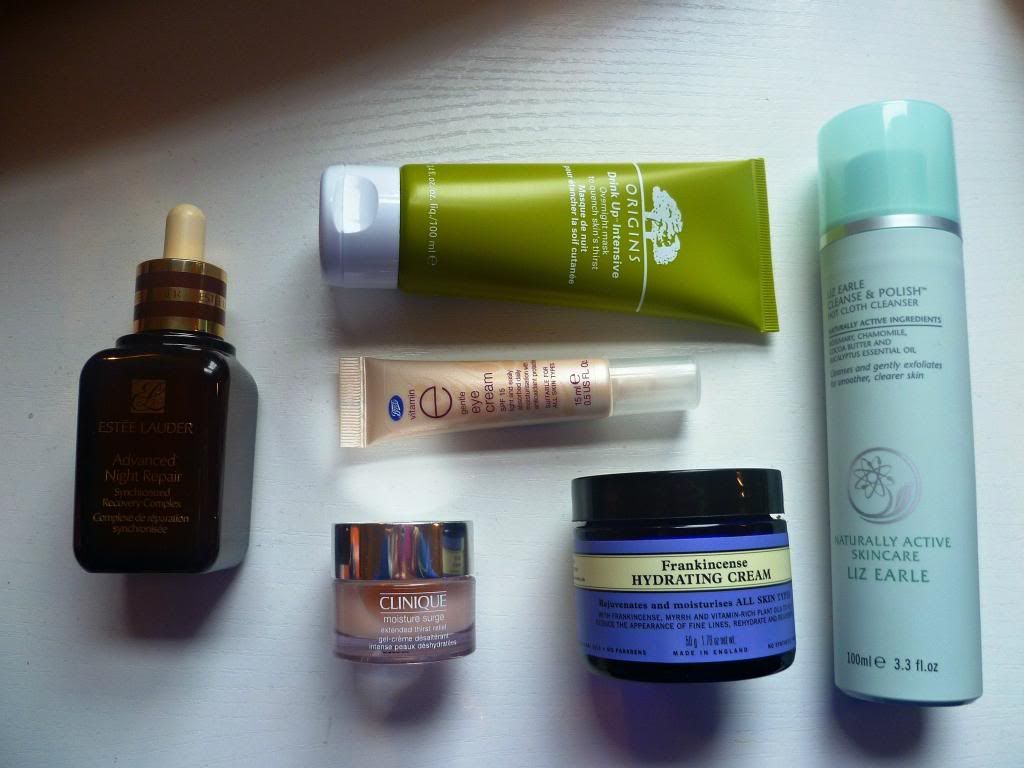 A few weeks back, I noticed that no matter how I applied my make up I always ended up looking cakey. Even the most moisturising of my bases were no longer dewy and just weren't sitting right on my skin. I realised that together with being ill, the colder weather and central heating, my skin had become dehydrated. As I have a relatively oily t-zone I would usually shy away from hydrating products, but I have learnt that there is a difference between dry and dehydrated skin. Combating the problem of dehydration can also help to balance out oilyness which is a plus point for me! I had a few products already in my arsenal but picked up a couple more to get me through the colder seasons.
For cleansing,
Liz Earle's Cleanse and Polish
is a great natural choice for all skin types to take off make up and cleanse skin with a creamy formula including cocoa butter to nourish skin. The two part system keeps skin soft and radiant - this is my second bottle and will definitely always have a spare in my stocks.
Advanced Night Repair
is my serum of choice as it delivers hydration yet sinks in quickly and easily. It has quickly become a holy grail product for me and I alternate it every other night.
Over the top of my serum is a new purchase. My first product from Neals Yard (after hearing
Hannah
rave about them!) is the
Frankincense Hydrating Cream,
which I use as my night cream. It is rich and takes a little while to sink but a little goes a long way and I've been impressed so far. For a lighter alternative or as a day cream, I've been using a little pot of
Clinique's Moisture Surge
Extended Thirst Relief
which I was previously using over the Summer. As it is a gel like consistency it is light yet hydrating and leaves skin smooth and primed for make up.
For an intense boost once a week or so I bought Origins Drink Up Intensive mask - I tried the original formula before and enjoyed it but thought this one would really suit me for winter. It smells amazing and again a little goes a long way. Finally, for my eyes is another new purchase, however this one is more purse friendly! Boots Vitamin E eye cream is my first eye cream in ages and I have been using this morning and night to help my concealer sit better under my eyes. Not the most amazing of creams but definitely not the worst.
That's my round up of what I've been using to treat my skin recently, what products would you suggest for this time of year? xxx