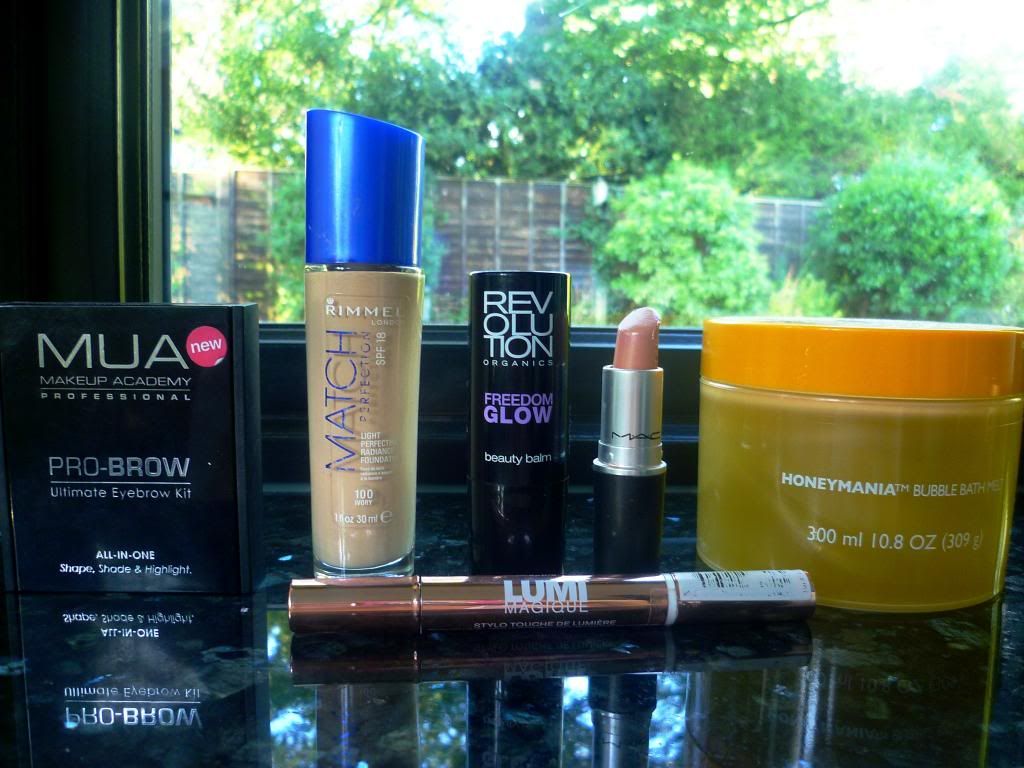 This month's favourites features some newish purchases as well as products that I've learnt to love again after shopping my stash.
MUA Pro-Brow Kit:
After hearing a lot about various brow kits, I thought I'd switch out my regular brow pencil to try one myself and thought this would be a good place to start as it is cheap as chips. I use the lightest shade of two to fill in my brows and the wax included to set them. The powder is soft with good pigmentation and the wax is easy to work with. I really like the results that using a powder creates and have reached for this every day since I bought it. A full review post on this little kit with more details on it will be up in the near future.
Rimmel Match Perfection Foundation:
For the past three years I have always had a bottle of this foundation in my stash. Normally reserved for nights out, I really like the finish this foundation gives and that the coverage is buildable. Matched with the Real Techniques buffing brush I find this gives a lovely natural air brushed base with a slightly dewy finish. I usually prefer matte finishes but recently this foundation has been reached for on a near daily basis. I have the colour '100 Ivory' which is a little too dark for me at this time of year so will be picking up a lighter shade when this has run out.
Revolution Organics Freedom Glow in 'Bronzed':
I posted a review of this a while back but have changed the way I use it since then. Reminiscent to the NARS multiple sticks, this is a multi use product free of any nasties. My preferred way to use it at the moment is as a cream contour as it is a darker shade than the bourjois bronzing primer which I use more for adding warmth to my complexion. It is easy to blend and build up when buffed in again with the buffing brush from Real Techniques.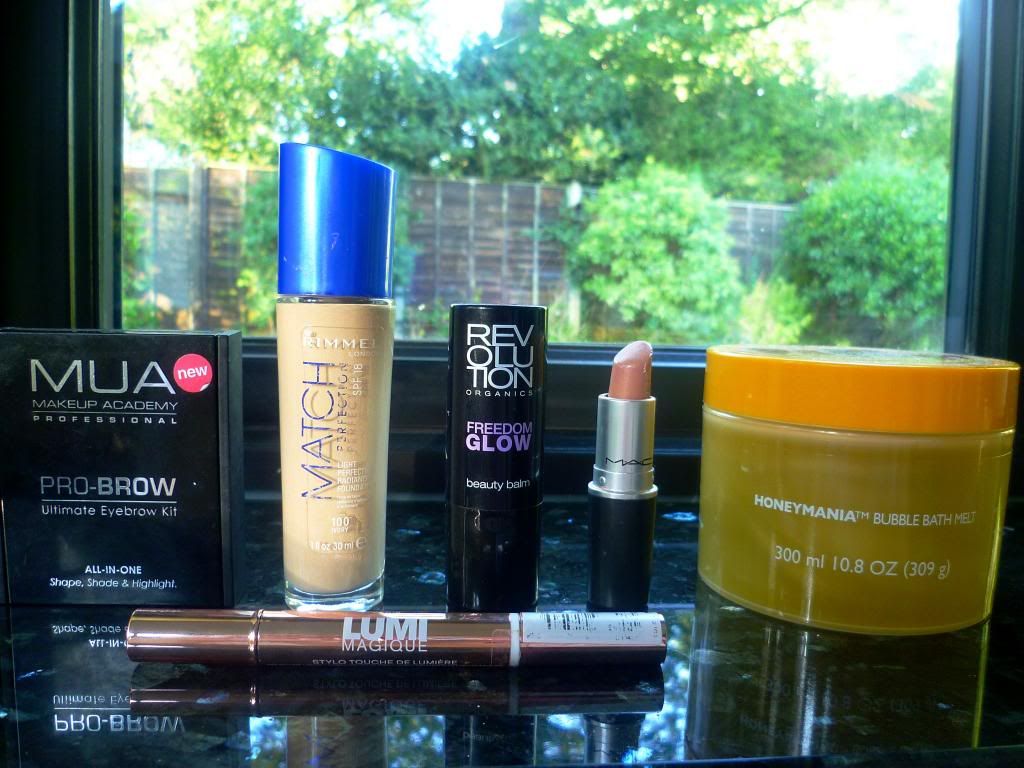 MAC Creme D'Nude Lipstick:
This is a relatively new purchase too which I picked up from a recent blog sale. Although it was a bit melted, the shade had been on my wishlist for ages so I snapped it up for a bargain price. My first cremesheen finish (the other MAC lipsticks I own are amplified) this lipstick has become a staple in my every day make up. I normally stick to bright lips but I've been going through a bit of a nude moment and this is the perfect shade and consistency for every day. Buttery and nourishing, this smells just like other MAC lipsticks and has just enough shine and brown to the shade to be complimentary to my skin tone. It is perfect for day and night and is a great addition to my lipstick collection.
The Body Shop Honeymania Bubble Bath Melt:
As soon as I caught wind of the Honeymania launch I knew I had to get my hands on some products. The bath melt has a really strong scent which I love - more floral with a touch of honey. The consistency looks just like honey and there is something about the pearlescent formula that makes it feel like a real decadent treat. Now the colder months are here I've been enjoying more baths and this is the perfect accompaniment
L'Oreal Lumi Magique:
For ages I never understood the hype behind YSL Touche Eclat but then I realised it's purpose was for highlighting rather than concealing and saw how fab it was. The L'Oreal high street version is just as great in my opinion and I've enjoyed using it every day on the inner corners under my eyes to brighten over a colour corrector, down the bridge of my nose, on my brow bone and the cupids bow. It is subtle and natural but makes a difference to brightening your complexion and the rose gold packaging is pretty cute too.
What have you enjoyed using recently? xxx